The United States is torturing Iraqis to provide information that implicates Iran in the insurgency. Information obtained by torturing people is known to be unreliable, because people will tell the interrogator anything to make the torture stop. So why do we continue to do it? It doesn't make any sense. Nothing the United States does makes any sense.
From
The Guardian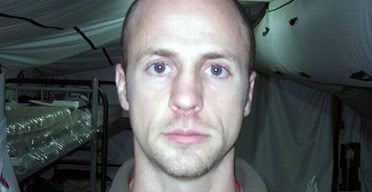 Micah Brose, privately contracted interrogator working for US forces in Iraq.
Photograph: David Smith
Micah Brose, a privately contracted interrogator working for American forces in Iraq, near the Iranian border, told The Observer that information on Iran is 'gold'.

...

Brose, 30, who extracts information from detainees in Iraq, said: 'They push a lot for us to establish a link with Iran. They have pre-categories for us to go through, and by the sheer volume of categories there's clearly a lot more for Iran than there is for other stuff. Of all the recent requests I've had, I'd say 60 to 70 per cent are about Iran.

'It feels a lot like, if you get something and Iran's not involved, it's a let down.' He added: 'I've had people say to me, "They're really pushing the Iran thing. It's like, shit, you know." '

So it sounds like we aren't finding what we're looking for. That's because it's not there. No matter how hard we want blame Iran for the U.S. screw up, there's nothing there to find. So you have to fabricate something. WMD Redux. We're just torturing people for nothing.
It makes me sick to be American. This is not who we are. The Jews have taken over the United States and they're trying to turn it into Israel. Torture is standard operating procedure in Israel. Being evil is standard operating procedure in Israel. Anything at all can be justified in Israel. Even Israel itself can be rationalized. Why not torture too?
This whole stinking mess is about Israel's supposed right to exist. Just screw everyone else, right?